The JUDGES...
Adrianne Marcucci is a professional actress, singer and dancer who has performed around the world. She currently performs around south western Ontario in Murder Mysteries and tribute shows where she impersonates various legendary singers.
Rosario Arce is an award winning recording artist and actress originally from Bolivia. She began singing and performing on radio at a very early age. In 1987, she won the title of "Talent of the Year" in her homeland.
Cosimo Crupi is a graduate of the Royal Conservatory of Music and plays various instruments such as keyboards, trumpet and accordion. He is an arranger, studio musician and has toured with bands such as "Águias" and "Starlight". He has performed across Canada, the U.S. and Europe and during a tour in Italy, had the opportunity to perform for the Pope. He is presently touring with "Sangue Lusitano" and will be part of the ASCJS band in the final on April 21st.
Henrik Cipriano is a singer who has been performing for more than 20 years both as a solo artist and with his band Black Tulip. He has released 2 albums and has performed in many countries around the world.
Hernani Raposo is a musician, composer, arranger, conductor and producer. He owns Midi-Tech Studios and is one of the most sought after producers in the Portuguese community. Hernani also works with many international recording artists, having earned 3 platinum records with Mexican record company, Discos Musart. Currently most of his live performances are devoted to playing the Portuguese guitar for Fado. The 1st place winners in both categories of this contest will be recording their CD at Hernani's Midi-Tech Studios.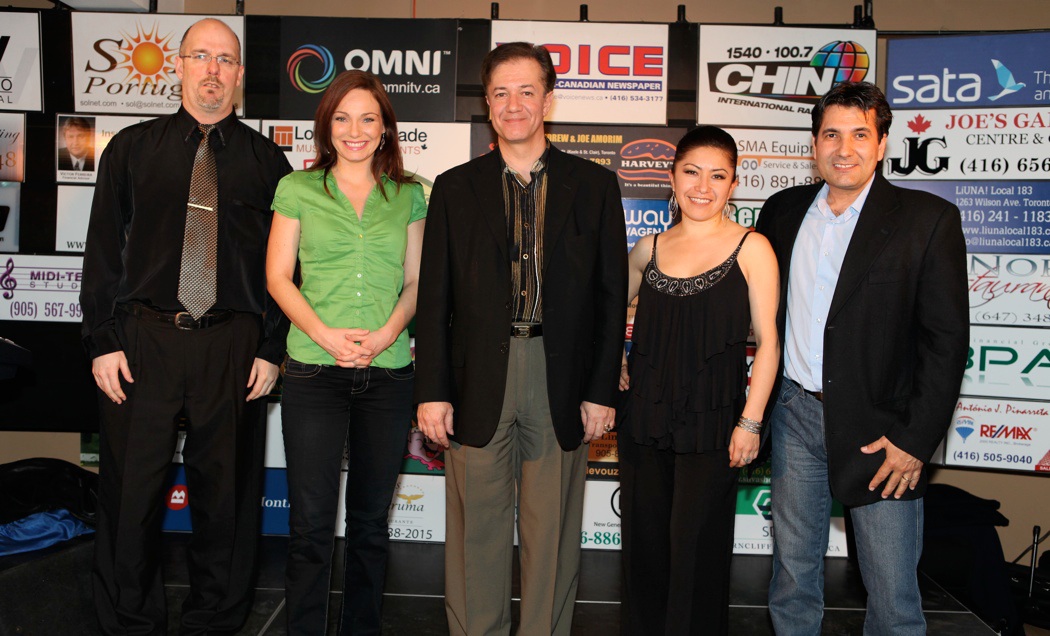 L-R: Cosimo Crupi, Adrianne Marcucci, Hernani Raposo, Rosario Arce & Carlos Borges