Welcome to the first Qualifying round of the 3rd season of the Amateur Singing Contest with John Santos,
The CONTESTANTS...
Juvenile
1. Nancy Marques - Voar Em Ti (Santamaria)
2. Claudia Pereira - Solta-Se Um Beijo (Ala Dos Namorados)
3. Sandra Nogueira - Salsa (Monica Sintra)
4. Emily Ferreira - The Greatest Love Of All (Whitney Houston)
5. Jordan Pereira - Chico Fininho (Rui Veloso)
6. Kayla De Brito - I Drove All Night (Celine Dion)
7. Soraya Martins - Believe (Cher)
Adult
8. Roger Leal - Como É Linda Minha Aldeia (Roberto Leal)
9. Sara Marques - From This Moment (Shaina Twain)
10. Elisabete Soares - Amanhã De Manhã (As Doce)
11. Rita Francis - Lusitana Paixão (Dulce Pontes)
12. Linda Canhas - Everytime (Britney Spears)
13. Brian Vasconcelos - Depois Dessa Noite (Mikael Carreira)
14. Dalquis Peña - Crazy (Patsy Cline)
15. Paul Soares - Hurt So Good (John Mellencamp)
16. Stephany Pascoal - Stick Wit U (The Pussycat Dolls)
THE JUDGES...
Mano Belmonte is a professional singer, actor and recording artist. He began performing as a child in Portugal and has been a member of the artistic community here in Toronto for more than 30 years... thanks for being here Mano
Cristina Costa is a radio announcer and producer for CHIN Radio. She has been hosting the program "Wake Up Portuguese Style" for nearly 10 years...
Brian Rainey is an entertainer who has performed internationally playing classical/flamenco guitar. He's worked with Donna Summer and owns Raindrop Productions. He is an entertainment consultant and an agent for Disney. He booked John & Lisa (Duo Santos) with Disney for 3 years...
Joe Morgado studied guitar at the Royal Conservatory of Music and is the bass player and band leader for "Os Panteras", with whom he has performed around the world. He also works for Dismusica and Henda Recording Co. and is an event organiser and promoter...
Frank Foggetti is a pianist and keyboardist who studied jazz at York University. He's studied Classical, Brazilian, and Cuban music for various years. He is a songwriter/composer and arranger, a teacher of various idioms and has written a few books on Brazilian and Cuban Grooves for keyboard. He performs in various places locally and abroad, including Portugal...
Ed Câmara is a musician/composer who plays guitar, bass and harmonica. He is an original member of the group "Tabu" as well as a studio musician whose musical tastes range from rock to classical to jazz...
Marcelo Neves is a professional singer and recording artist with 2 gold record to his name. Originally from Brazil, he has made Toronto his home over the last few years. Thanks Marcelo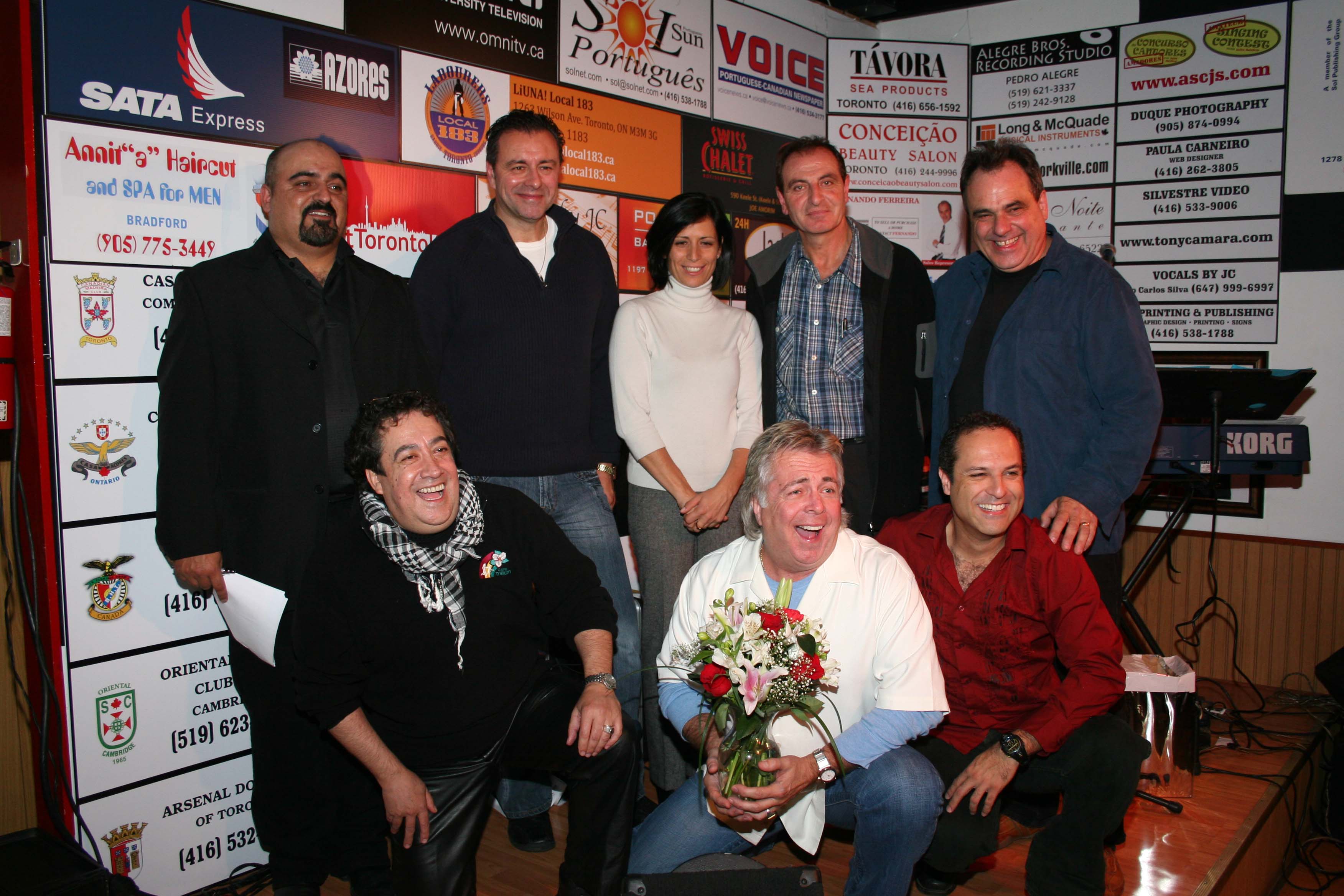 We'd like to thank Benfica club for hosting this first part of the contest. Remember that the contest is will be moving on to Casa de Madeira starting next Wednesday. December we'll be at Oriental Sports club in Cambridge, January at Arsenal Do Minho, February at Casa Dos Açores and back to Casa de Madeira for the Final Qualifying round as well as the Grand Finale. Thanks to all the clubs for participating in this event.
...and the WINNERS are:
Juvenile
Sandra Nogueira - Salsa (Monica Sintra)
Kayla De Brito - I Drove All Night (Celine Dion)
Adult
Rita Francis - Lusitana Paixão (Dulce Pontes)
Stephany Pascoal -Stick Wit U (The Pussycat Dolls)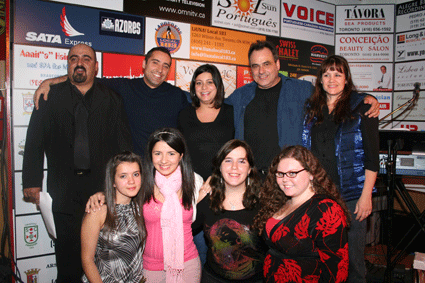 John Santos and his right-hands: Lisa Santos, Tony Câmara, Melanie Câmara and Joao Carlos Silva, with the 4 finalists.