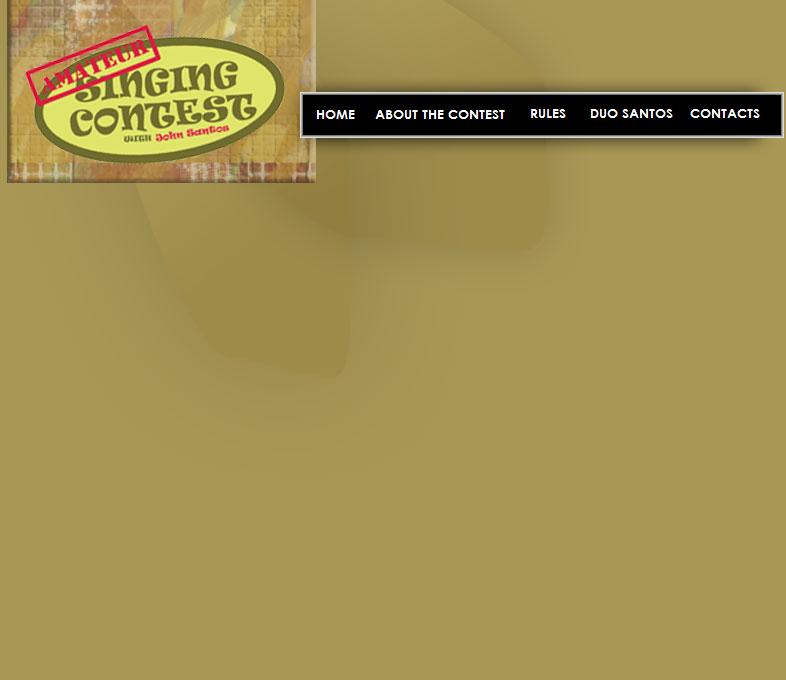 FIFTH QUALIFYING ROUND FEBRUARY 2012
Welcome to the fifth Qualifying round of the 6th season of the Amateur Singing Contest with John Santos,
The CONTESTANTS...
Juvenile:

1. JAMES TAVARES - I Want You To Want Me


2. JESSICA VIDAL - Nossa Senhora


3. LUKA MIKAJLOVIC - Not Over You


4. RAQUEL SKILICH - Angels


5. KATHERINE OLIVEIRA - Bubbly


6. PATRICK LOPES - Ben


7. MAITHRIE GANGODAWILA - Grenade QUALIFIED


8. PADDY SREERAM - I Want It That Way

Adult:

9. SANDY CORREIA - Back to December


10. BENVINDA VIEIRA - O Xaile da Minha Mãe


11. MICHELLE MORGADO - Back To Black


12. DIANA RICHIE - Don't Cry Out Loud QUALIFIED*


13. MARISA OLIVEIRA - Summertime QUALIFIED**


14. BESS FURFARO - My Heart Will Go On


15. KASIA KACALA - A New Day Has Come


16. ALESSIA LALOMIA - Before He Cheats QUALIFIED**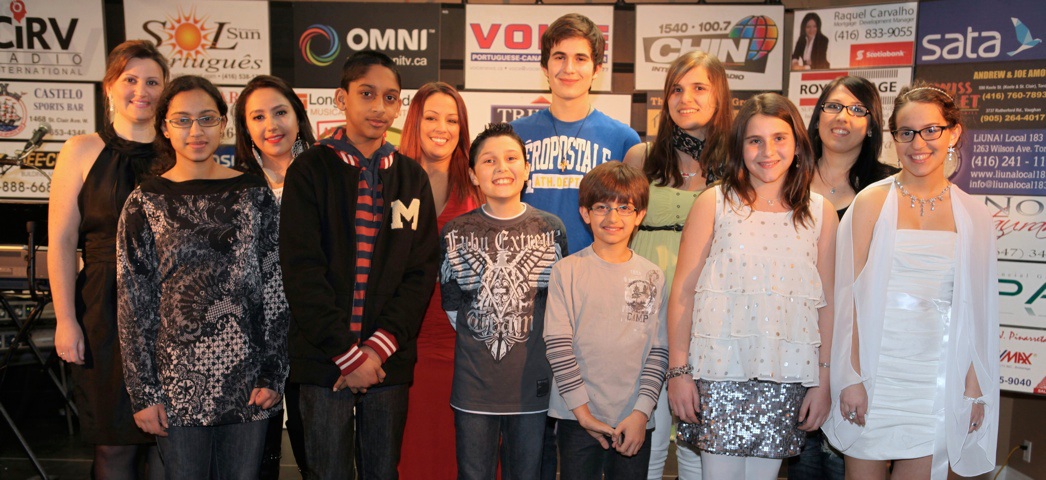 L-R, back row - Bess Furfaro, Sandy Correia, Benvinda Vieira, James Tavares, Katherine Oliveira & Alessia Lalomia. Front row - Paddy Sreeram, Maithrie Gangodawila, Patirck Lopes, Luka Mihajlovic, Raquel Skilich & Jessica Vidal
The JUDGES...
Adrianne Marcucci is a professional actress, singer and dancer who has performed around the world. She currently performs around south western Ontario in Murder Mysteries and tribute shows where she impersonates various legendary singers.

Rosario Arce is an award winning recording artist and actress originally from Bolivia. She began singing and performing on radio at a very early age. In 1987, she won the title of "Talent of the Year" in her homeland.

Nancy Costa has been a performer for over 20 years. She studied voice at the Royal Conservatory and with classical voice coach Brenda Berge. She recently completed recording her first album of fado and is also working on a project of latin-flavoured pop. She has won the CIRV Song Festival 3 times and has performed around North America & Europe.

Henrique Cipriano is a singer who has been performing for more than 20 years both as a solo artist and with his band Black Tulip. He has released 2 albums and has performed in many countries around the world.
Hernani Raposo is a musician, composer, arranger, conductor and producer. He owns Midi-Tech Studios and is one of the most sought after producers in the Portuguese community. Hernani also works with many international recording artists, having earned 3 platinum records with Mexican record company, Discos Musart. Currently most of his live performances are devoted to playing the Portuguese guitar for Fado. The 1st place winners in both categories of this contest will be recording their CD at Hernani's Midi- Tech Studios.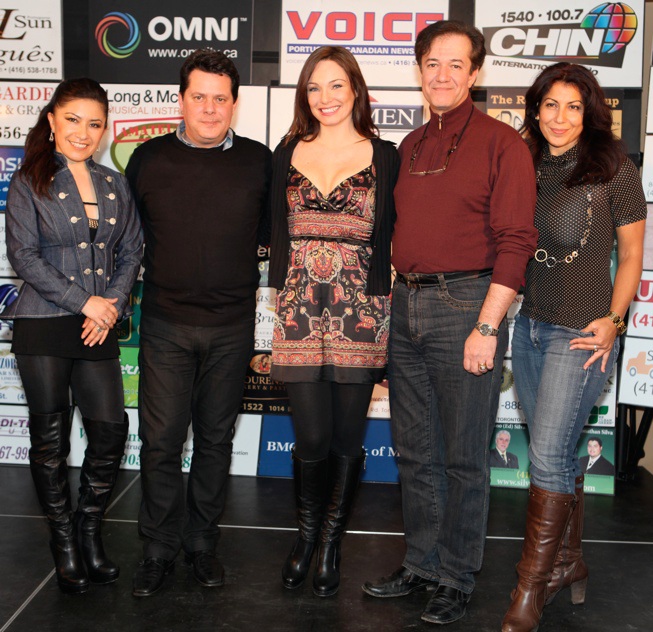 L-R - Rosario Arce, Henrik Cipriano, Adrianne Marcucci,
Hernani Raposo & Nancy Costa
...and the WINNERS are:
Juvenile
LUKA MIKAJLOVIC - Not Over You
MAITHRIE GANGODAWILA - Grenade
Adult
BESS FURFARO - My Heart Will Go On
KASIA KACALA - A New Day Has Come
2nd round qualifier, Lindsay Dalton, had to withdraw from the competition for personal reasons so the next in line that month, Diana Richie (shown here), automatically moved on to the semifinals.

Since it was the last chance for this season's remaining contestants to qualify, the judges were given the opportunity to
"save" 2 contestants from either category that they felt deserved to move on. They chose 2 Adults: Alessia Lalomia & Marisa Oliveira